Want to step up and crush your Instagram game? Looking for ways to make your IG seriously jealous? Skyscanner has the lowdown of the most photogenic places in the Philippines that will absolutely add more flair and life to your Instagram feed!
1. Mayon Volcano, Albay
There's no mountain or volcano in the Philippines that's as remarkable, spectacular and photogenic as Albay's Mayon Volcano. For years, this Philippine icon has been featured prominently in social media, blogs and magazines, luring travelers from all across the world. With its towering figure and perfectly nature-engineered cone, Mayon Volcano will totally unleash your inner shutterbug.
2. Kayangan Lake, Coron, Palawan
Labeled as the country's cleanest lake, Kayangan is arguably the highlight and most anticipated stop of most trips in Coron. Admired for its outstanding rock formations and crystal clear waters, this incredibly mesmerizing lake will give you the urge to snap dozens of photographs with its outstanding natural backdrop.
3. Calle Crisologo, Vigan, Ilocos Sur
In the mood for some vintage shot? Take a leisurely walk down memory lane, while snapping tons of photographs, in the UNESCO World Heritage site, Calle Crisologo, Vigan.
4. Las Casa Filipinas de Azucar, Bagac, Bataan
Still looking for more rustic touches? Drop by Las Casa Filipinas de Azucar, and be enticed by the colonial-era buildings that make an excellent backdrop for your OTTD and IG shots.
Photo credit: mikesuhvilla
5. Basco Lighthouse, Batanes
From gentle rolling hills to extraordinary beaches, Batanes literally has no shortage of Instagrammable spots. But, for a memorable photo shoot in Batanes, head to the renowned Basco Lighthouse – one of the most sought-after Instagram-worthy spots in the Philippines.
6. Casino Peak, Cebu
Move over Osmeña Peak! While Osmeña Peak has been dominating Cebu's IG feeds for years, another nearby mountain is about to steal its thunder – Casino Peak. With its Chocolate-hills-like scenery, jaw-dropping views and wondrous rock formations, Casino Peak is a sight that you can't afford to miss, when visiting Cebu.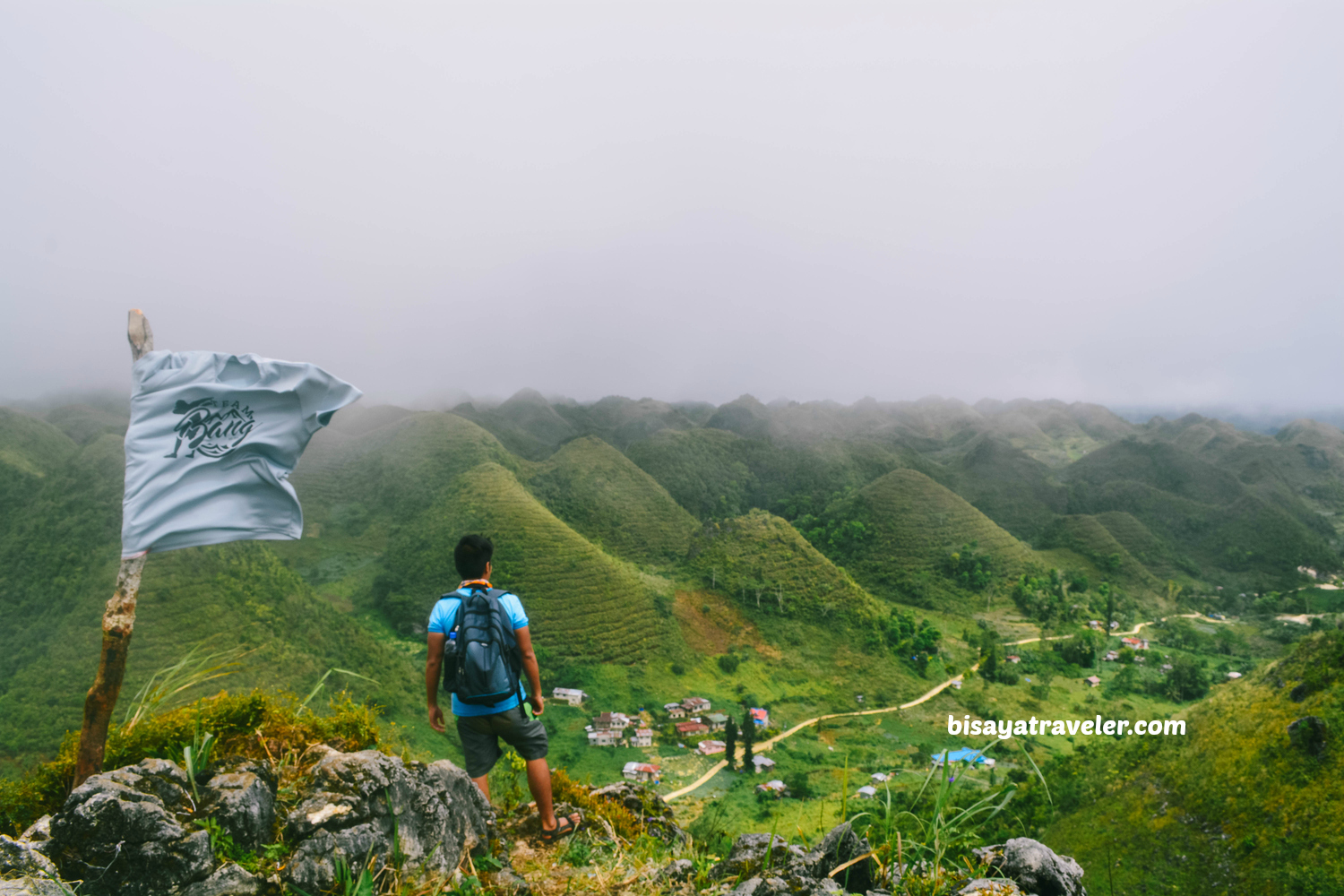 Photo credit: bisayatraveler
7. Chocolate Hills, Bohol
Speaking of scenic hills, no list of the best Instagram-worthy spots in the Philippines is complete without the inclusion of Bohol's undisputed star. Deemed as one of the country's most famous landmarks, these natural spectacles will leave you speechless and in awe, with its symmetrical dome-shared hills covered beautifully with grass.
Photo credit: curiousatlas
8. The Ruins, Negros Occidental
Negros Occidental is normally a place people visit for revisiting history. And one of the most eye-catching places to visit in the province is "The Ruins" – an old abandoned Spanish-colonial-era mansion.
_Photo credit: Flickr/DSCF7140/Lee/CC-BY_
9. Mount Pinatubo, Tarlac
"A beautiful disaster" – that's how people often describe when they lay eyes on Mount Pinatubo. Despite its brutal and disastrous past, Mount Pinatubo has transformed itself organically into a lovely and charming volcano lake.
10. Bonifacio Global City, Manila
Don't want to travel far? Then, grab your OOTD, and head to one of Manila's favorite Instagram-worthy destinations – Bonifacio Global City. Filled with bustling city lights, skyscrapers and fabulous wall art, BGC is visited frequently by Instagrammers who are extremely fond of urban landscapes.
_Photo credit: treblaosuba
11. Banaue Rice Terraces, Ifugao
Not only do they make a great Instagram photo, but these terraces are also bucket-list-worthy sight for most Pinoy travelers. After all, it's a riveting image and a childhood dream for most Pinoys since it has been shown greatly in Social Studies books during grade school.
12. Sunken Cemetery, Camiguin
With its ethereal feel and beautiful cross, the Sunken Cemetery is an alluring attraction you can't afford to miss, when in Camiguin.
13. Kiltepan Peak, Sagada, Mountain Province
Where do broken hearts go? Whether you're miserably single or in a happy relationship, you can help but fall in love with the beautiful sunrise and spectacular view in Sagada's Kiltepan Peak.
Photo credit: nojuanisanisland
14. San Juanico Bridge, Leyte
Known as the longest bridge in the Philippines, San Juanico is totally an Instagram-worthy destination and a monumental landmark that should in ever Pinoy wanderer's travel bucket list.
15. Tinuy-an Falls, Surigao del Sur
Even if you're not much of a waterfall lover, you'll still be fascinated by the sheer size and beauty of Bislig City's Tinuyan Falls.
16. Tibiao, Antique
Amp up your Instagram feed with some catchy and heart-thumping photos. If that's something you want to try, check out the beloved Kawa Hot Bath in Tibiao, where you'll experience a one-of-kind spa in a huge tub.
Photo credit: philippineimages
17. Taal Volcano, Batangas
At 311 MASL, a hike to the crater of Taal Volcano doesn't seem too challenging, especially for seasoned hikers and mountaineers. Nevertheless, it has nice overlooking views that will take your breath away.
Photo credit: roxan.ika
18. White Beach, Boracay, Aklan
Think Boracay is all about its crazy parties and celebrity sightings? Forget its vibrant nightlife scene! Famous for its pristine white sands, gorgeous waters and striking sunsets, Boracay's White Beach is truly a dream spot for photography buffs and bona fide Instagram junkies.
19. Sleeping Dinosaur, Davao Oriental
Traveling to Davao Oriental? When visiting the laid-back city of Mati, don't forget to catch sight of the incredible picturesque sleeping dinosaur!
Photo credit: davaocitybybattad
20. Siargao Island, Surigao del Norte
Siargao – the surfing capital of the Philippines – will fill your IG feed with friendly locals and striking waves. To complete your visit in Siargao, try yoga by the beach and surfing.
21. Tinipak River, Rizal
With its clear blue freshwaters and hypnotizing marble rock formations, Tanay, Rizal's Tinipak River has the type of natural beauty that will put your photo in featured posts. What's more, a visit to the river can lead you to a great outdoor adventure, hitting a bunch of other natural attractions in Rizal.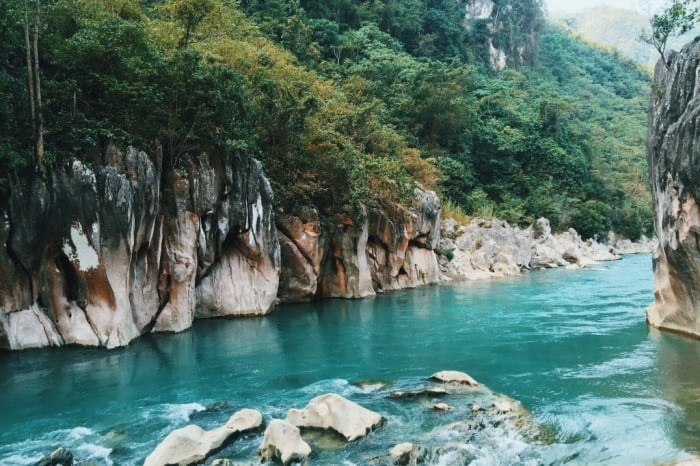 Photo credit: tripzilla
22. Apo Island, Negros Oriental
With its rich marine life and underwater waters, it's no wonder IG connoisseurs and divers adore this 12-hectare volcanic island in Negros Oriental. To make things even better, the island has plenty of wondrous rock formations, making your IG snaps even more intriguing.
23. Sohoton National Park, Samar
Praised for its cathedral-like caves, underground rivers and limestone boulders, you won't run out of awesome IG-worthy snaps in Samar's Sohoton National Park.
Photo credit: wikimediacommons
24. Hundred Islands National Park, Pangasinan
Just recently, Hundred Islands National Park unveiled an impressive and stately 56-foot Jesus Christ statue, which was inspired by Brazil's world famous Christa the Redeemer Statue. And, that's not all, folks! With over a 120 islands and islets, this national park brims with sights that epitomize a tropical paradise in the Philippines.
Photo credit: nomadlensph
25. La Trinidad, Benguet
Fond of colorful buildings? Why no not pay visit to the kaleidoscopic houses in La Trinidad, Benguet? Inspired by Brazil's painted favelas, these houses will surely add more life and colorful to your Instagram feed.
Photo credit: trekero
Article Source: https://www.skyscanner.com.ph/news/tips/25-most-instagram-worthy-spots-in-the-philippines